3 High End Gaming Setups of 2020!
THESE GAMING SETUPS WILL INSPIRE YOUR NEXT GAMING ROOM
What We Like About This Setup
This setup has a total of 5 screens. The 4 IPS monitors stacked together and a 4K television to your side for purposes other than productivity. This setup isn't exclusively for gaming, obviously, as it's specifically made to inspire serious content creators.
In fact, this can easily handle 7-8 virtual machines-- each doing dev, image, and video work at once.



What We Don't Like About This Setup
Aside from the plain black case, we don't really like that the resolution of the top two monitors (1080p) differs from those on the bottom (4K). While this can come in handy on certain projects, it can also come off as being tacky. Still, this is technically a very minor nitpick of a practical matter, so it's far from being a deal breaker.



The build is already good enough for what it is… but if you're going to build your own "submarine cockpit" theme, add some barometers in… and RGB.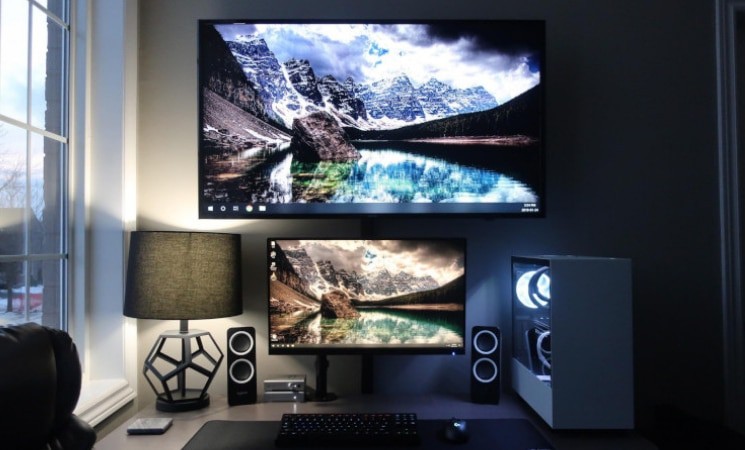 What We Like About This Setup
This is a setup that should inspire gamers who have nothing but a small PC desk. You have a smaller monitor for all your games and a larger one just above it for other purposes like watching TV. The gaming desk setup may look crowded but you still have more than enough space to move your hands around.



What We Don't Like About This Setup
The speakers. A pair of larger, wall mounted speakers flanking either side of the TV/monitor should give you more room. Room you could use to improve aesthetics, like with a potted plant, or to just give you some room.



If you're going to follow this and make a similar setup, make sure you have enough natural light as well as room for your speakers, because chances are you have better (and bigger) speakers than this. Alternatively, a headset should sort this out if you're willing to use it, too, when watching movies on the big screen.
If you're not digging the lamp being on the desk, and thus in your way, you might want to browse some standing lamps. However, you do want to be careful as this could add more of a glare on the TV if they're used at the same time as one another.
What We Like About This Setup
The entire setup gives you a naturey feel with the plants all around you-- even hanging from the ceiling. The ultrawide monitor, as well as the lighting, just makes everything look and feel natural. Not to mention how the watering compliments the entire setup.
While this isn't the first build to do it, it's worth noting how you can use extra lighting outside of the traditional RGBs to make the build-- and room-- come to life. Here we see "spotlight" pointing up, as well as various lamps.
Overall, if you're into gardening and plants, you might want to use this as inspiration.



What We Don't Like About This Setup
While it's true that you get a cool feel sitting and playing games here, the addition of natural light will surely complete the puzzle.



If you're willing to go up the extra mile to use real plants as an ornament, make sure they're plants you can grow indoors (further reinforcing the importance of natural lighting). Or just use plastic plants if you want.